OSCAR and BERNIE
RESUME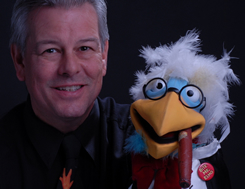 SHOW APPEARANCES
Sapphire Comedy Hour, L.V.,Nv. 6/13-6/15, 2 years Co-Hosted
Funny Stop Comedy Club, Cuyahoga Falls, OH.
M.C., & opening act with Mike Green, 10/02, Disgruntled Clown, 1/03, 10/04, 3/12,and featured for Mr. Clown 2/14, Russ Nagel, 6/03,
James Lee Reeves, 1/04 & 3/06, John Wesley Austin, 4/04. Charlie Wiener, 3/07, Mike Veneman 10/08, Lionel Hamilton, 4/10, and Collin Moulton 3/11.
CrazyJay Bird's Rocking Comedy Show at the Underworld Bar and BB's Roadhouse, Las Vegas, Nv., bunch of times
Hellzapopin' Show, Queen Victoria Pub, Riviera Hotel, Las Vegas, Nv. 9/10,
End Zone Sports Pub, 1/09, Fruita, Co., headlined, Tom Matthews featured
Toadz Pad, 4,6,7,& 8/'09 Cedar City, Utah, headlined & feature
Continental Hotel "Comedy Cutups", Las Vegas, NV. Emcee and Talent Coordinator, 12 week engagement.'89
Poetry Club at Caesar's Palace, 8-7-08 L.V., Nv.
Café Espresso Roma's "Comedy 2Nite!", Las Vegas, NV. Emcee and talent coordinator 2 years with Paul R. Brown,'85, '86
(Paul was Drew Carey's roomate, see Carey picts.)
Trumps, Phoenix, AZ, with Larry Scarano, Sam Kinnison's feature, '88.
"Tin Pan Alley" with Peter Anthony, Johnny Jay (see Reeves picts), and Kork Proctor, L.V.,'80.
Westward Ho & Treasury Casino's, LV,'80, 81, Big 6 Barker, First Vegas' Dealertainer.
The Tutor House, Lake Arrowhead, CA, with Jimmy Still and Max.'87
Bootlegger, Sonny King & Blackie Hunt Show, L.V.'03
Union Plaza, feature act, BigFoot Show 11/'08
Elk, Moose, V.F.W, & American Legion Lodges in Ohio, Nevada, and California. Booked by Brian Hoffman 2000-07, ask for details, so many places.
Short Bus Comedy Show, 9,10,11 & 12/08, 1,3,4,5/09, Onyx Theater; 6&8/'09, Greek Isle Casino, Las Vegas, Nv.
The Comedy Store, Los Angeles, with a Bunch of Freaks.'79,'88,'96, return '10
Sahara Hotel, Las Vegas, with Sandy Hackett (Buddy's son) '78-81, also the Greek Isle, Sandy's Show with Steve Rossi,'03
Y2K Celebration at the Mohican River Inn, Loudonville, OH. Headlined.
Shriners Jesters at Sahara Hotel with Johnny Jay, 1/07
Sandy Zimmerman's Rancho High Talent Show, Las Vegas, Nv. 5/1976, First time on stage
TELEVISION
Forrest Duke Shows, LV., NV. '80-'81 as the Ain't Brothers, with George Carlin as special guest. 
A regular on "The New Gong Show", 1989 & '90.
Numerous TV commercials; local, national, and international.
Movietickets.com with Holly Madison, Mini-Cooper Cars with a Monster Truck, Dossan Co., S. Korea, MoneySuperMarket.com, England, and Caesars Palace as a Roman soldier. Spokesperson.

Appearance in the TV movie "Jack of Hearts". 1990
Oscar was Dennis Franz' stand-in on the NBC "Nasty Boys" TV show.'91
Live with David Lynch Show on PAX TV.'03
Open Call, T.V. Guide Show on Cable, 2005
Tonight Show, interviewed by Alonzo Bodden, season 3 winner of Last Comic Standing. 10-17-06
America's Got Talent, June 16,'07
Let's Make a Deal, winner of an AXT Gym, 10/09 with Wayne Brady
Last Comic Standing June 14,'10
Last Call with Chuck Galleti April, 2011, Ohio Sports Talk
"Mystery Diner", 2012
"House of Lies" Showtime, 2013
PLAYS
Studied acting under George Ferencz, of Yale University, at a bar.
Starred as "Barnaby" in "Babes in Toyland", directed by Jim Volkert, who starred in "PIG".
Co-starred as Sir Frances Chesney in "Charley's Aunt" directed by Colston"Skip"Corris
Co-starred as Detective Brogan in "Murder's Bad but Monday Can Kill You" directed by Chris Otcasek
MOVIES
"One" - played an elder, directed by Jason Tomarick.
"Rock Robbers" - played detective John, directed by Bruce Pattison.
"The Pact", "Ocean's 13", "What Happens in Vegas", "Race to Witch Mountain", "Get Him to the Greek", "Hangover1&3", "An Entire Body", "Stand by Me", "Last Vegas", "The Incredible Burt Wonderstone", "Til Luck do Us Part", "Paradise", "Think Like a Man2", Ek Main Aur Ekk Tu (Ballywood), "Mall Cop2", "Show Dogs" and "Bourne". SAG-Aftra member
CORPORATE GIGS
Demo's for G.E. Advantium Ovens at Sears Stores, Clev., Oh.'99
MBNA at Cleveland Browns Games, 1999
Aidell's Sausages at Costco & Sams Stores, L.V., Nv. '08-'11
Ragu Food Products, D'Avila Models, Cleveland, Ohio '99
John Stuart Productions, L.V., Nv.,'05
GS Marketing, L.V., Nv. at Tao, Venetian Hotel, Shecky's Girls Night Out, 12/'08,
Vaporstore, Champs Covention, L.V., Nv. 8/'09.
Paul Mitchell Hair Products Show, Hair and Runway model 7/'10
WebcastTV.com, teleprompter work,'10
BIOGRAPHICAL DATA
Oscar is originally from Cleveland, Ohio. He moved out to Las Vegas when he was nineteen years old and has been performing professionally since 1978, starring as half of the "Ain't Brothers". His stand-up comedy act consists of ADULT humor, a variety of impressions, anecdotes and Bernie, a parody on ventriloquism. We are billed as "The World's Worst Ventriloquist Act You'll ever see!" Bernie declares he wants to debate Triumph, the insult dog, in any political arena! Bernie is an obnoxious, politically incorrect, parrot puppet characterization of George Burns, complimented by Oscar doing Mr. Burns's voice. Mr. Burns, while performing at Caesar's Palace, encouraged Oscar, by telling him that he had flopped in show business for 20 years before he made it. Oscar said, "That makes me feel good." Mr. Burns asked, "Why's that?" and Oscar said, "I flopped for 10, I'm half way there!" Mr. Burns laughed and said, "Never quit kid." Oscar was also the owner of Academy Award Productions, shooting freelance videography and over 100 videos on Oscar and Bernie Youtube channel. He has taped Jerry Lewis, Robert Goulet, Phyllis Diller, Mickey Mantle, Ernest Borgnine, Norm Crosby, Don Rickles and Sylvester Stallone, and many other comics at different events. Oscar moved back to Cleveland for family concern's in 1996 and came back to Las Vegas in 2004. Oscar is 6' tall and weighs 180 pounds; he has silver hair ( it's not grey! ) and brown eyes. Oscar's hobbies are water and snow skiing, dancing and comedic glass collecting.  While living in Ohio, Oscar had been performing at numerous Clubs and Lodges in the Cleveland area, and recently was back in Cuyahoga Falls, at the new Funny Stop, for a week engagement. Oscar says,"I plan to produce a show of all puppeteers, titled "Guys With Dolls," and start a foundation, "Puppets for Patients," distrubuting puppets to children in hospitals. I'm also collaborating with people now to produce"The Blue Collar Cook" starring IBEW Chef, Tommy Klesch." Oscar provided the comic relief for Dave Roman's creative thinking workshop "Fire Your Boss" at Lakeland Community College, and has released his eBook titled,"Sometimes...You Gotta' Kicka' Cab!" I now have a happy ending. Call 702-515-9162
www.oscarandbernie.com
Find me on MySpace
Oscar and Bernie on YouTube
Back to Top