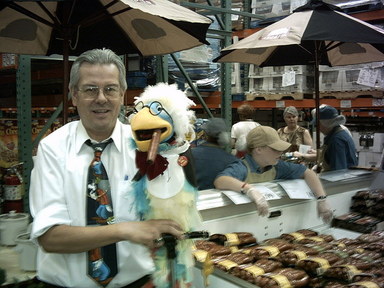 Oscar and Bernie at L.V., Costco, entertaining Aidell's sausage buyers, 7-06.

TASTY FOODS!
These first recipes are from my mom. You really didn't think Bernie has recipes. Besides, what is Bernie going to eat, but some crackers with bugs on it!
Buy Steaks, the West wasn't Won on salad!

Your one stop shop for information related to gourmet steaks, seafood, and cooking accessories.


Mom's Advertising Specialities  • 
 

Mom's recipes got a lot of play in the Cleveland area. She demonstrated these recipes, starting in 1971, at BeeDee Hein's Party Line to area groups that wanted to learn about some great finger foods to liven up the party. My favorite was the;


WATER-CHESTNUT MEATBALLS

  Mom's recipe starts with 4 cups of unseasonedd croutons soaked in 1 cup of milk. Add 1 lb. of ground beef, 1 tea. of onion powder, 1 tea. tobasco, 2 tab. soy sauce, 1 lb. bulk pork sausage, 1 tea. of garlic salt, 1 tea. of Accent, 1 8.5 oz. can of water chestnuts, chopped. After you mix, shape into small meatballs, cover, fry on low heat, or place on rimmed cookie sheet and put into a 325 degree oven for 20 minutes. Makes about 75 meatballs. Can be frozen; defrost, put into oven bake 10 minutes at 350 degrees. I liked serving these hot tasty morcells with a mustard, mixed with mayo and onion sauce, or Bar-B-Q sauce. 
PARSLEY BUTTER
Take half cup of butter or margerine softened, add tea. of lemon juice, 3 tab. finely chopped fresh parsley, blend throughly, lemon rinds work better than lemon juice, keep in frig. Use on carrots, beans, beets or rice. Also used in the;


OLIVE PINWHEEL
This recipe starts with a pullman style of white bread sliced lengthwise, thin.Trim off crust on sides and roll bread on both sides with rolling pin. Butter with parsley butter. Line up stuffed green olives along one narrow end. Roll bread, jelly roll fashion over the olives, roll about half the length of the bread. Cut, fasten with tooth picks. Roll in saran wrap and chill in frig. Slice to serve with seam down about half inch thick. Freezes well.

SANDWICH LOAF
Take whole wheat, white, or rye pullman loaf, sliced thin, lengthwise, from bakery. Trim the crust, spread with soft margerine, top side of of the bottom slice and same on the bottom side of the top slice. spread on both sides of the inner slices. This prevents bread saturation by the added fillings and enables freezing.Frost the loaf with 2 8 ounce's of cream cheese. Thin cheese to spreading consistency with warm water. Use water; milk makes it taste bland. Fill each layer with 2 cups of desired tuna salad, chicken salad, egg salad, or whatever you like to use. Mom would use a great pimento spread on one layer, and I love it. Use whatever you like to whip up. Be creative. After filling, wrap and chill, and insert toothpicks to prevent saran wrap from disturbing the frosting. When serving, if frosting has cracked, just run spatula under hot water and smooth out.Slice in half inch layers to serve. You can decorate if desired, nice to serve at parties, showers, etc.
EGG SALAD
This recipe starts with 6 hard cooked eggs, chopped, add half a cup of sour cream, half cup of crumbled Bleu cheese, and 1 teaspoon of vinegar and mix. Use on Sandwich loaf or crackers.



RIPE OLIVE SPREAD
This recipe starts with a half cup of butter or margerine, combined with 1/4 cup of pitted chopped ripe green olives or a half cup of Cheez Whiz or similar product combined with the chopped olives and spread on sandwich loaf as one layer or spread on crackers.

 
Mimi's German Potato Salad
This is my Aunt Betty's version of my grandmother's recipe. 5 lb potatoes, boiled with skins then peeled and cut up 6 slices bacon (thick), fried crisp and crumbled – reserve drippings 1 onion, diced 4-5 eggs, hard boiled, peeled and sliced ¾ C vinegar 1 ¼ C water (or as needed for the right sauce consistency) 2T bacon drippings (or all from the bacon… the bacon today is much leaner and may not produce more than 2T) 2T flour 2T sugar 2C sour cream 2t salt For dressing: After the bacon is fried, remove it from the pan and place on a paper towel. Add flour, sugar and salt to 2T of bacon drippings. Then add vinegar and cook over low heat to thicken. Add enough water to create a thick sauce (cream of mushroom soup thickness). Combine the sauce with sour cream. Combine potatoes and sauce. Then add onion, bacon and eggs. Stir to combine. Can be served warm (traditional) or chilled. Serves a small army… (not sure how many, but at least a family of 10) Recipe courtesy of Elisabeth Hein West


Merrill Family Specialty Potatoes
Prep Time: 15 min Total Time: 1 hr 10 min Makes: 8 servings
What You Need 1/2 cup KRAFT Ranch Dressing 1/2 cup KRAFT Finely Shredded Italian* Five Cheese Blend 1/4 cup OSCAR MAYER Real Bacon Bits 2 lb. small red bliss potatoes, quartered (about 6 cups) 1 Tbsp. chopped fresh parsley
Make It PREHEAT oven to 350°F. Mix dressing, cheese and bacon bits in large bowl. Add potatoes; toss lightly. SPOON into lightly greased 13x9-inch baking dish; cover with foil. BAKE 40 min. Remove foil; bake an additional 15 min. or until potatoes are tender. Sprinkle with parsley.


Greg White's Tomato Salad
Greg is my Cleveland buddy trapped in Pittsburgh! Greg is an artist who did a great piece titled, "The Marriage of John Oscar Hein and Hummingbirds", I finally saw it and am flattered with the naming of his art, in part, after me. Here's Greg's recipe for you to enjoy. Take good summer tomatoes and slice thick. Place one layer on bottom of glass pan. Cut sweet onion and liberally cover tomatoes...then sprinkle crumbled blue cheese over to taste. Season layer to taste. Take Italian salad dressing [oil based] and mix in bowl with olive oil. Drizzle mixture over tomatoes. Repeat for 2nd. layer, cover and stash in frig to marinate.



CUCUMBER SALAD
Peel 3 cucumbers and slice thin. Place into a bowl, add 1 thinly sliced medium onion.Add salt to taste and stir, Place into refrig. for aprox. 1 hour, stirring occasionally. Drain off cucumber juice and add aprox. 8 oz. of sour cream. Serve chilled.


SANDY'S YUMMY SUPPER
My lady, Sandy, got this recipe from her boss's wife back in Ohio. Sandy gave it a southwest flavor when we moved to Vegas. This recipe starts with 1 lb. of ground beef,7 oz. of elbow macaroni, 1 can of cream of mushroom soup, 1 jar salsa, 1 cup of shredded Mexican cheese, 1 can of French fried onion rings. Brown ground beef and drain, make macaroni to directions, mix all the ingredents in casserole and bake at 350 in covered casserole dish for 30 minutes. Turn off oven, uncover and top with onion rings, place back into oven for about 5 minutes.

SHEPARD'S PIE
Take an oven proof glass bowl and on the bottom, place French cut green beans, drained. That is the bottom layer, now place on top of it a marinara type spaghetti sauce with ground beef. Now cover those two layers with mashed potatos and bake at 350 degrees for about a half hour until hot throughout. A family favorite for years.


SWEET and SOUR CHICKEN
This recipe starts with 1 pkg.of onion soup mix, 1- 8oz. of Russian or Catalina dressing, 1-12oz. of orange preserves, 1/4 cup of ketchup, 2 tbs. of brown sugar. Combine ingrediants in a bowl and pour over chicken in a 9x13 pan and bake for aprox. 1 hour at 350. Serve with rice, along side or on top.

BARBEQUE CHICKEN
Chicken breast halves, 1 cup Heinz barbecue sauce (or brand you like) with mushrooms 1/2 cup ketchup, Juice of 1 lemon, 1 tsp. prepared mustard, 1 tbsp. Worcestershire sauce, 1/4 cup finely chopped onion, Lightly salt chicken and place in a baking dish. Mix rest of ingredients and pour over chicken. Cover with foil. Bake at 400 degrees for 15 minutes, then reduce heat to 300 degrees and cook for 1 1/2 hours.


Sandy's TOMATO SALAD
Sandy's great tomatoe salad is healthy for you too. Start with aprox. 6 tomatoes cut into bite-size pieces. Place into a bowl, add 1/2 sweet onion sliced in thin bite-size slices. Add salt to taste and about 2 tbs. of oregano. Mix thoroughly and put in the refrigerator for about an hour. Stirr occasionally. Add olive oil to make juicey (aprox.1 cup) stir and place back in frig., for aprox. another hour and stirr occasionally. Serve with Italian bread to sop up tasty juice.



DAD'S MACARONI SALAD
Dad did this best, first get elbow macaroni, hellmans mayonnaise,fresh onion, or onion powder(NOT onion SALT) Heinz pickles cut up into small pieces, some pickle juice, worcestershire sauce. Cook elbow macaroni according to the box, drain & rinise with cold water, put in refrig for later. Combine mayonnaise, onion powder, worcertershire and small amount of pickle juice together, pour over macaroni, then add cut up pickles. 1 - 2 pound box elbow macaroni cooked, about two cups mayo, about 2 teaspoons worcestershire, about 1/3 cup pickle juice, a few shakes of onion powder, 1/2 a jar of pickles. Best when you use Heinz pickles & Hellmans mayo


Pat's Des Moines Pork Loin
I met Patrick Kennedy, from Des Moines, Iowa in 1974 while working at the old Holiday Casino. His recipe was to get a pork tenderloin and marinate it in Worchershire Sauce and added pepper, cooked on the grill. Pat would first let the flame hit it on both sides to sear in the juices, and then back off the fire a bit, and let the loin cook untill done. Over the years we've cooked loins marinated in Italian dressing, and also cut into the loins and added thyme, rosemary, and other herbs. They are very tasty when you cook in a smoker too.


Denny's HANKY PANKY
My friend Dennis Borchert of Cleveland, Ohio has made this finger food as an appatizer, and it's the tastiest! Take hot sausage, one pound and one pound of ground beef and brown the meats together, drain the grease and add one half of a Velveta block and then cook together with the meats, melting the chesse down. Take a loaf or two of the party rye breads, place meat on bread and bake about ten minutes at 350%, and serve up some Hanky Panky!


Send fresh, long lasting flowers direct from the grower!

BACON and EGG PASTA
This is a recipe that Sandy designed and starts with 1 lb. of bacon and cut into bite size pieces, 1 lb. of pasta (bow ties), 6 eggs at room temperature, 2-1/2 heaping tbs. of chopped garlic, parmasan or romano cheese, 1/2 cup of olive oil. Cook bacon in oil until it's browned, add garlic. Mix eggs and cheese and add mix to cooked pasta and continue cooking until egg is cooked, add bacon and serve. Goes great with salad and garlic bread



Marty Gonska's Tortilla Lasagna in a Crock Pot

This is my buddy Marty's recipe he told us about while on the set of Hangover-3. I met Marty on Race to Witch Mountain and he is always fun to work with. His passion is his cooking!
1 pkg 20-24 tortillas (Flour) Tomato sauce (make your own as I do or buy the crap in the cans) 2 jars Cheeses ( I use a couple of different kinds in the recipe), Mozzarella, Swiss, American, and jalapeño nacho sauce, fresh grated parmesan cheese. 2 lbs of ground beef or turkey if preferred 1 lb of ground sausage (or slice whole sausages) 1 small can of jalapeño peppers (just for kicks) 2 large onions 1 large container of cottage cheese (I like large curd, not fat free) a couple of pounds of veggies (zucchini, fresh spinach, etc) Lots of garlic (the more the better) A couple of shots of white cooking wine. I use the wine in the sauce and the meat. Don't know if it matters but that's how I do it. Get a crock pot, amount of ingredients depends on crock pot size. I have a large crock pot and recently discovered crock pot liners. This sure cuts down on the cleanup. The tortillas swell up a bit and get chewy so leave some room at the top. Change out meats if preferred and use veggies you like better than listed ones, those are my favorites. Cook meat with onions chopped in it and add some of the garlic (chopped and diced) and jalapeno peppers after the meat is cooked. If you cook the veggies before hand they become mushy, I like to add them raw. The steam in the crock pot cooks them. If you don't want spicy leave the peppers out or if you want more spicy add hot sauce to your taste. Put a little of the sauce in the bottom of the crock pot then layer in some tortillas. Start with a layer of meat and a little more sauce on top of it the layer in more tortillas, then a layer of cottage cheese, You can mix the veggies in the cottage cheese or do each as a separate layer, spread some sauce over each layer (not too much so you can taste the ingredients and not just the sauce). Spread the chopped garlic and parmesan cheese over each layer per your taste, as well as the cheeses or make the cheeses a separate layer which is what I do sometimes. Just keep layering the ingredients with tortillas between each layer. I sometimes put double layers of tortillas as I like the taste and texture they add. Just cover the crock pot and heat on low as the meat is precooked. I make it the night before and cook it through the night, about 6 hours does it. At the low temp I've never overcooked it. If you want to cut down the cooking time start at high for an hour then place on low for the rest of the time. You can also do this in the microwave to save time but I don't think it comes out as good. It does as well in a conventional oven with a lot less time.

Taco Soup

This is one great soup from the Southwest. 2 lbs lean ground beef, 1 lg onion - chopped, 1 can (14 - 16 oz for all) white hominy, 1 can yellow corn, 1 can pinto beans, 1 can diced tomatoes, 1 can Rotel tomatoes with chilis, 2 cans chicken broth, 2 pkgs taco seasoning, Brown meat w/onion - drain - add the rest of ingredients, with juice from cans, bring to a boil, simmer for 30 - 40 minutes. Serve topped with crumbled nacho chips, place mexican cheese springled on top of nachos, and a dollop of sour cream on top.


Sour Cream Coffee Cake

Tasty dessert! 3/4 c soft butter, 1 1/2 c sugar, 3 eggs, 1 1/2 tsp vanilla, 3 c flour, 1 1/2 tsp baking soda, 1 1/2 tsp baking powder, 1/4 tsp salt, 1 1/2 c sour cream, Heat oven to 350 degrees, Grease pan, Combine butter, sugar, eggs & vanilla, then beat at medium speed 2 min. Mix in flour, baking powder & salt alternately with sour cream. Layer batter w/filling (1/3 batter 1/2 filling) - Bake about 60 min. Filling, 1/2 c brown sugar packed, 1/2 c chopped nuts, 1 1/2 tsp cinnamon.

Sandy's Special Brownies, no they're not "THAT" special!
No, you do not add any special secret herbs or spices! Unless your Doctor says it's okay. These tasty morsels are the best brownies I've ever had. First start with a 9x13 inch pan and line with aluminum foil. Buy 2 boxes of your favorite brownie mix and 3 big chocolate bars. You can add chopped walnuts too. Combine the brownie mix as directed on the box and add walnuts. Pour half of the brownie mix into the pan. Take the bars of chocolate and lay the bars across the pan over the brownie mix. Pour the remaining brownie mix over the bars of chocolate. Bake according to the directions, possibly a little longer until the top is shiny. Let it cool completely and lift the foil out. Then cut into 2 by 2 inch squares. Serve and stand back, there will be a stampede!



Ona Smith's Bison Roast
My classmate Ona sent me this great recipe from the Rocky Mountains. We graduated Brecksville High, 1972, in Ohio. Nothing like a girl who can cook a bison! I've had moose and elk and hear that bison is best. We should have been the Brecksville Bisons, instead we were Bees! Take a bison ribeye roast weighing 1-6 pounds. Rub Kosher or sea salt on to the roast, make sure to rub all surfaces well. Preheat the oven to 500%. Take bacon and wrap the meat. Place roast on rack of roasting pan. Sear in the oven for 20 minutes, then reduce the heat to 350%. Cook to your desire of meat. If you like it medium-rare, roast until internal temperature registers 125% on a meat thermometer, about 60 minutes. Longer if you like well-done. Let the roast rest for about 15-20 minutes after cooking before carving.



Tommy's Crab Cakes
My life long friend, Tom Goll, taught me this recipe while in New Hampshire, outside Boston. First you have to start with a 1 pound can of crab meat, which was Culinary Reserve Crab Cakes, and this is basically the recipe off the can, with some changes Tom made to spice it up. He took a large bowl tossed in the meat and added aprox. 10 crackers and some Stove Top stuffing, 1 egg, 2 tbsp of mayo, 1 tsb of Old Bay seafood seasoning, 1 tsb of Worcestershire sauce, 1 tsb Dijon mustard, 1 tbsp of dried parssley flake, 1 tsp of lemon juice. Then you mix it all up in the bowl, then form the ingrediants into patties, and then coat the patties with Italian bread crums. Place your crab cakes on an olive oiled pan and sautee on medium heat 2-4 minutes per side. Serve on a bed of lettuce and you got a quick, fun, tasty seafood special.




Wallings Road School Pizza Burgers
Recipe from Pinky/Louise (Urban) Winik: "The recipe was from about 1963. My mom, Lois Urban, was teaching at Wallings Road School at the time and got it from the cook there, Mrs. Prokopius. She "invented" it." Brown 3 pounds of ground beef with some onion. Salt and pepper to taste. Set mixture aside to get cold in the fridge. Add 1 12 oz. can Chef Boyardee Pizza Sauce 1 12 oz. can Hunts Tomato Sauce 1/2 pound grated American Cheese 1/2 teasp. Oregano Put one scoop (they used ice cream scoops) on half of a bun and put under the broiler until the cheese melts. "That's the basic original recipe. We have changed it some: Added dried basil and Parmesan cheese. I'm not sure if those can sizes still exist but it would be easy to substitute."

Chriss Sorge's ITALIAN RUM SPONGE CAKE
5 egg yolks, reserve whites 5 egg whites 1 1/2 C sugar 1 1/4 C cake flour sifted 1 tsp pure vanilla extract RUM SYRUP
1/4 C rum or 1 tbs rum flavoring 1/3 C water 1/2 C sugar ITALIAN PASTRY CREAM ( CAKE FILLING) (PASTICCIERA CREAM)
3 Tbs sugar 3 egg yolks 3 Tbs flour (all purpose is fine to use) 1/2 tsp vanilla extract 2 Cups whole milk ( for richness) 1 Tbs butter WHIPPED CREAM CORN SYRUP METHOD.
2 C heavy cream 1 tsp pure vanilla extract 2 tsp light corn syrup 2 CUPS sliced almonds or more to cover sides of the entire cake
Directions 1. **Sponge Cake Directions:** Preheat Oven @ 375 Butter and Flour (2) 8-9" cake pans, set aside. 1. Beat egg yolks and sugar in bowl till Lemon colored. 2. Add Flour Sifted, little at a time, Blend well. 3. Add Vanilla 4. Beat Egg Whites till stiff but not dry, Fold into batter. 5. Pour batter into Prepared Pans. 6. Bake 40 min. or til toothpick inserted comes out clean. 7. remove from oven, invert cake out of the pans, onto rack to cool completely. 8. Note: Cake Can be Tightly wrapped and refrigerated over night or frozen up to 3 weeks.
2. **RUM SYRUP DIRECTIONS:** Method #1. Mix together ingredients in small pot, Bring to boil, stirring til sugar dissolves. Remove from heat. Cool before using. When Cool, Brush genouously over cake. METHOD #2. If you prefer, Brush cake with 1/3 Cup Rum diluted with 1/4 Cup water. ITALIAN RUM CREAM CAKE
3. **ITALIAN PASTRY CREAM:** 1. Mix Sugar, egg, flour & Vanilla in a saucepan. 2. in seperate Pan, Scald Milk. 3. "Very Slowly pour milk over egg yolks" in a thin stream as to not Cook the eggs. Beating constantly with mixer. 4. Cooking over low heat, stir with wooden spoon, until mixture reaches boiling point. Cook for 4 min longer, must stir constantly. 5. Remove pan from heat, add butter, and stirr well. Pour into Bowl Cover and Chill . Stir occasionally to prevent film from forming on top of custard cream. 6. chill 3-4 hrs til very thick for use as filling.
4. ** WHIPPED CREAM** Stabilized 1. in a large Chilled Bowl. Put bowl in freezer to chill. chill beaters also. 2.Beat cold Cream until it just starts to thicken. 3. add Corn syrup, & vanilla down the Sides of the cold Bowl. 4. Beat to stiff peaks form.
5. ** ASSEMBLY OF CAKE** 1. Slice Cake in 1/2 to form two layers. 2. Slice the two layers in 1/2 again making 4 thin layers. 3. Place bottom layer on plate cut side up brush with rum syrup becarful not to get cake too wet, or the layers will be soggy.. allow to soak in for about 5 min. 4. Brush rum on the remaining layers on cut side up evenly with the rum. do not saturate the layers. You only want to flavor the cakes by brushing the rum on the cakes. (Do Not Saturate the layers) 6.Top bottom layer with the vanilla pastry cream, filling. 6. then another layer of rum brushed sponge cake. 7. Next a layer of the Whipped Cream 8. top with another layer of the Sponge layer cake 9. another layer of the pastry cream 10. last layer of the sponge cake 11. top entire cake & sides with whip Cream. reserving Enough whipped cream for making Roseettes on top of the cake. 12 final step cover entire sides of the cake with the Sliced almonds.
6. This cake is TOTALLY WORTH every bit of the Effort. TIP: I take one layer and cut the Cake in 1/2. following steps, 1,2,3 and I make (2) cakes out of the recipe. How about that. . . 2 cakes in one. It is just too much cake & 2 many layers for one Cake.

Mick Fleetwood of Fleetwood Mack was hawking his wine and CD's
and Oscar was sizzling his sausages for Aidell's.


BLONDE'S COOKBOOK:

MONDAY:
It's fun to cook for Bernie. Today I made angel food cake. The recipe said beat 12 eggs separately. The neighbors were nice enough to loan me some extra bowls, I'm still looking for Angels, when I find them I'll have to beat them too.
TUESDAY:
Bernie wanted fruit salad for supper. The recipe said serve without dressing. So I didn't dress. What a surprise when Bernie brought a friend home for supper, said he was gay and liked fruit salad.
WEDNESDAY:
A good day for rice, hump day. The recipe said wash thoroughly before steaming the rice. It seemed kind of silly but I took a bath anyway. I can't say it improved the rice any, though they did look steamed.
THURSDAY:
Today Bernie asked for salad again. I tried a new recipe. It said prepare ingredients, lay on a bed of lettuce one hour before serving. Bernie asked me why I was rolling around in the garden, I told him the recipe called for it and the gardner was happy to help.
FRIDAY:
I found an easy recipe for cookies. It said put the ingredients in a bowl and beat it. There must have been something wrong with this recipe. When I got back, everything was the same as when I left.
SATURDAY:
Bernie did the shopping today and brought home a chicken. He asked me to dress it for Sunday (oh boy). For some reason Bernie keeps counting to ten, I thought the chicken looked good in a suit.
SUNDAY:
Bernie's Boss came to dinner. I wanted to serve roast but all I had was hamburger. Suddenly I had a flash of genius. I put the hamburger in the oven and set the controls for roast. It still came out hamburger, much to my disappointment, I forgot about the chicken.

GOOD NIGHT DEAR DIARY.
This has been a very exciting week. I am eager for tomorrow to come so I can try out a new recipe on Bernie. If I can talk Bernie into buying a bigger oven, I would like to surprise him with chocolate moose.

See Johnny Jay's Cooking With the Stars



BERNIE'S BAKED CHICKEN

Here is a chicken recipe that also includes the use of popcorn as a stuffing -- imagine that. When I found this recipe, I thought it was perfect for people like me, who just are not sure how to tell when poultry is thoroughly cooked, but not dried out. Give this a try. 4 - 5 lb. Chicken 1 cup melted butter 1 cup stuffing (Pepperidge Farm or other is OK .) 1 cup uncooked popcorn (ORVILLE REDENBACHER'S LOW FAT) Salt/pepper to taste Preheat oven to 350 degrees. Brush chicken well with melted butter salt, and pepper. Fill cavity with stuffing and popcorn. Place in baking pan with the neck end toward the back of the oven. Listen for the popping sounds. When the chicken's ass blows the oven door open and the chicken flies across the room, it's done. And, you thought I couldn't cook...Oscar



SPAGHETTI

For several years, a wealthy business man was having an affair with an Italian woman. One night, she confided in him that she was pregnant. Not wanting to ruin his reputation or his marriage, he paid her a large sum of money if she would go to Italy to secretly have the child. If she stayed in Italy to raise the child, he would also provide child support until the child turned 18. She agreed, but asked how he would know when the baby was born. To keep it discrete, he told her to simply mail him a post card, and write "Spaghetti" on the back. He would then arrange for the child support payments to begin. One day, about 9 months later, he came home to his confused wife. 'Honey,' she said, 'you received a very strange post card from Italy today.' 'Oh, just give it to me and I'll explain it later,' he said. The wife obeyed and watched as her husband read the card, turned white, and fainted. On the card was written: 'Spaghetti, Spaghetti, Spaghetti, Spaghetti, Spaghetti. Three with meatballs, two without. Send extra sauce!

When in Cleveland, the best pizza is my sister's Angie's Pizza in Independence, Ohio!
Oscar with the best pie!

We'll Publish Your Recipe FREE, You Get the Credit!
Oscar and Bernie on YouTube
Promo's 4 Comics| Reeves Pictures| Carey Pictures| Carlin Pictures| Barbutti Pictures| Comedy Contract| Finance Page| Health Page|
Oscar's Resume| GraBBaG Videos| First Page | Komedy Karaoke| Jokes| Television/Web Productions| Press Releases| Picture Thumbnails| Links Page| Crazy Photo's| eBook Page| Everything Cleveland| Memorial Tribute |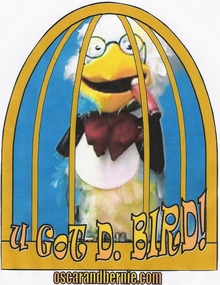 Learn all the Biz. Secrets, Read my eBook, now FREE Preview!
click "Sometimes...You Gotta' Kicka' Cab!" here
Disclaimer: any products or services purchased here are at your own risk. The Lawyers
Back to Top